Mission The mission of the Katie Lynch Foundation is to fund programs that promote opportunities and respect for people with disabilities, enabling them to lead active, fulfilling lives.
The Foundation was established to honor Katie's commitment to eliminating the social and physical barriers members of the disabled community meet on a daily basis. Seeking to fund programs that support healthy lives, foster inclusion through education, and promote access to recreation for the disabled community, the Katie Lynch Foundation is a 501 (c) (3) private foundation and has no paid employees.
INSPIRATION FOR THE FOUNDATION
Katie Lynch, born with a unique form of dwarfism, used a powerchair for mobility and needed personal assistance all her life. In her 27 years, along with her health challenges, Katie faced societal barriers head on. When asked by a television reporter why she worked so tirelessly on behalf of Children's Hospital Boston, Katie Lynch looked into the camera and said, "Because every human being is worth it."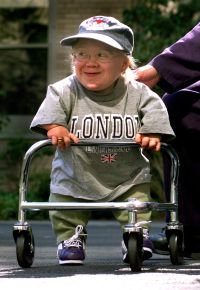 Katie knew she had been blessed with family and friends that loved and encouraged her and a community of highly trained medical and academic professionals who eagerly supported her fervent desire to become a valued member of society. It was Katie's heartfelt wish that every individual experience the love and respect that built the platform on which she stood so tall and that the doors she found closed would be opened to all.
FOUNDATION STRATEGY
The Foundation focuses its efforts in the areas of healthcare, education and community recreation. In order to maximize impact, the Foundation directs its resources to aid established programs and broaden their influence. When choosing initiatives, the Foundation seeks to increase exposure by working with partners such as Children's Hospital Boston and public school systems. In keeping with Katie's philosophy of "start small, think big," the Foundation is particularly interested in efforts where small amounts of money can make a real difference in people's day to day lives.
CURRENT AND PAST PROJECTS
---